We're Getting Mutants in the MCU - The Loop
打开音效
黑马漫画公司
[
]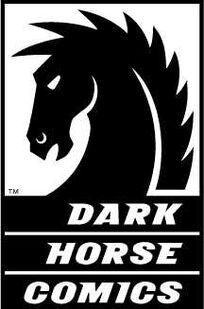 公司历史
[
]
黑马漫画公司始创于1986年。
Dark Horse Comics was founded in 1986 by Mike Richardson as an offshoot of his Oregon comic-book retail chain, Things From Another World. Richardson pursued the idea of establishing an ideal atmosphere for creative professionals, and twenty-five years later the company has grown to become the third-largest comics publisher in the United States.
In 1980, Mike Richardson used a credit card with a two-thousand-dollar credit limit to open a comic-book store,Pegasus Books, in the small resort town of Bend, Oregon. His intention was to write and illustrate a children's book himself while working in the store, but the business expanded, and his project was put on hold. He still plans to finish that book. As business grew, Richardson opened new retail locations in Oregon and Washington State. He soon became frustrated, however, by the lack of quality in the products he was selling, and so, using funds from his retail operation, he began his own publishing company. From the very start Dark Horse Comics was a different kind of publishing house. Writers and artists were treated as partners, an unheard-of generosity in the comic-publishing field at that time. Soon the industry's top creators were flocking to Dark Horse, where they became involved in the publishing and marketing of their creations.
Dark Horse Comics launched with two initial titles in 1986, Dark Horse Presents and Boris the Bear. Paul Chadwick's Concrete, about a congressional speechwriter who transforms into a two-thousand-pound cement creature, was a runaway hit and has received twenty-six industry awards and nominations to date. Within one year of its first publication, Dark Horse Comics added nine new titles to its roster, including The American, The Mark,Trekker, and Black Cross.
In 1988, Dark Horse revolutionized comics based on popular films with the release of its hit series Aliens, withPredator following soon after. The launch of Star Wars in 1990 solidified Dark Horse's domination of movie-based comics series. While licensed projects had been around for decades, most publishers devoted few resources to titles they did not own. Dark Horse took a different tack by plotting stories and using top talent to create comics series that were essentially sequels to popular films. This fresh approach met with enormous success, and sales on these popular titles sailed into the millions. Today, Dark Horse is the acknowledged industry leader in this profitable publishing niche. Current publications include Star Wars, Buffy the Vampire Slayer, Mass Effect, Aliens,Predator, Conan, Serenity, Dollhouse, and many others.
Richardson had a strong interest in manga and jumped ahead of market trends by publishing Dark Horse's first manga series, Godzilla: King of the Monsters, in 1987. More manga series followed, and by the early nineties, he was traveling regularly to Japan, where he cultivated strong relationships with top creative talent there. As a result, Dark Horse built a powerhouse manga program, including titles such as Koike's Lone Wolf and Cub, Tezuka'sAstro Boy, Otomo's Akira, Shirow's Ghost in the Shell, Samura's Blade of the Immortal, Sonoda's Gunsmith Cats, and Nightow's Trigun, as well as America's longest-running manga series, Oh My Goddess!, by Fujishima. In 2010, Dark Horse began a new partnership with superstar Japanese manga creators CLAMP, collecting such best-selling titles as Clover, Chobits, and Magic Knight Rayearth. 2011 will see the release of Gate 7, CLAMP's brand-new manga series.
In 1990, Dark Horse startled the entire industry by teaming up its two hot Fox movie franchises in one comic.Aliens vs. Predator caught the comics industry by surprise, and its success spawned an industry-wide trend. Today, the comic crossover is a staple of the industry. This strategy led directly to a series of crossover projects with industry giant DC Comics. Projects such as Batman versus Predator, Superman/Aliens, and Joker/Maskhave been runaway hits.
That same year, Frank Miller (Batman: The Dark Knight Returns) and Dave Gibbons (Watchmen) brought Give Me Liberty to Dark Horse. Later that year, Frank teamed with artist Geof Darrow and released Hard Boiled, again through Dark Horse. The success of these titles, together with Dark Horse's creator's-rights platform, led to the signing of talent from the "Big Two" to Dark Horse. High-profile creators such as Mike Mignola, Art Adams, Walt Simonson, John Byrne, and Chris Claremont brought projects to a company other than Marvel and DC for the first time. As a result of this talent movement, the field was opened wide for other creators, leading directly to the formation of numerous "independent" comic-book publishers.
Having achieved great success transforming film characters into comic-book stars, it was logical for Dark Horse to reverse that process and use its own original characters and stories as the basis for film and television. Richardson established Dark Horse Entertainment, Inc., in 1992 and set up shop on the lot of Twentieth Century Fox through a first-look deal with Larry Gordon and Largo Entertainment. Dark Horse Entertainment immediately went into development with a half-dozen projects, resulting in the production of four films in less than three years. Two of those productions, The Mask and Timecop, were created by Richardson and opened at number one at the box office. In the company's first nineteen years, Dark Horse Entertainment has produced over two dozen films and television projects.
1993 saw Dark Horse return to its roots, and a new corporation was formed to establish a retail presence at the Universal Studios CityWalk in Los Angeles. Named Things From Another World, Inc., the corporation's flagship retail operation, opened in 1994, was designed with a crashed spaceship embedded in the building.
As Dark Horse continued looking into new business opportunities, the Dark Horse Deluxe brand was initiated in1998 with a line of merchandise that included model kits, toys, apparel, and collectibles. Initially planned to draw on Dark Horse properties, the division soon outgrew its initial vision. Successes include such collectible lines as Tim Burton's Tragic Toys for Girls and Boys, Joss Whedon's Serenity, and most recently, merchandise for the popular video-game franchise Mass Effect. Dark Horse, working with Big Tent Entertainment and the NHK broadcasting corporation, brought Domo-kun, a popular Japanese cult-icon character, to the United States, with a series of products ranging from Qee figurines to journals and stationery sets. Dark Horse now sells over thirty-five different Domo-themed products, available in stores nationwide.
A prose imprint was created in 2004 to capitalize on Dark Horse's expanded distribution into bookstores. Early publications included Ursula Bacon's Shanghai Diary and the series The Playboy Interviews. More recently,Lovecraft Unbound, edited by Ellen Datlow, and Yahtzee Croshaw's Mogworld have been solid successes.
In 2007, Dark Horse again revolutionized licensed comics with the launch of Buffy the Vampire Slayer Season 8, which picked up where the hit television series left off. Plotted by series creator Joss Whedon, with stunning covers by Jo Chen and interiors by Georges Jeanty, the book was a smash hit, with initial sales of over one hundred thousand for the first issue. Over the course of the title's three-year run, the series boasted story lines from television writers Jane Espenson and Drew Goddard, as well as best-selling author Brad Meltzer.
A short time later, Dark Horse launched The Umbrella Academy, created by My Chemical Romance frontman Gerard Way. Through a mix of dynamic storytelling and eye-catching artwork by Gabriel Bá, the book was a success with music and comics fans alike, and has won numerous awards over the course of two miniseries.
At Comic-Con International that same year, Dark Horse relaunched its legendary flagship title Dark Horse Presents in a groundbreaking partnership with then-number-one social-networking site MySpace.
2008 saw the release of Hellboy II: The Golden Army, helmed by acclaimed director Guillermo del Toro. The Universal Pictures film received rave reviews from fans and critics alike and debuted at number one at the box office.
In 2009, best-selling author Janet Evanovich teamed up with Dark Horse for the release of Troublemaker, the author's first-ever graphic novel and the newest volume in her best-selling Alex Barnaby series. Dark Horse also joined forces with video-game company BioWare to publish all-new Mass Effect comics, cowritten by lead game writer Mac Walters.
In 2011, the company celebrates its twenty-fifth anniversary in style, with the launch of an all-new proprietary digital-comics app, boasting hundreds of titles for download through both the iTunes store and the Dark Horse Digital storefront at Digital.DarkHorse.com.
The anniversary year sees another landmark event, as the company relaunches its flagship title, Dark Horse Presents, in an all-new eighty-page print format. The roster of contributors reads like a who's who of comics talent, including the return of Paul Chadwick's Concrete and Steve Niles's Criminal Macabre, and new talent including Sanford Greene, Carla Speed McNeil, Nate Cosby, and many, many more!
In 2012, Dark Horse reestablished itself as the premier publisher of creator-owned and licensed content by kicking off the year with a New York Times number-one bestseller, Avatar: The Last Airbender, which quickly became a smash hit. Soon after, The Art of Mass Effect followed and swept video-game audiences off their feet. As Dark Horse's comics continued to grow in print, Dark Horse Digital continued to grow in the consumer market, invading Nook, Kobo, and Kindle tablets, as well as producing a four-star Android app. Dark Horse Deluxe celebrated a record year as well, releasing the beloved Troll dolls back into the public, not to mention keeping fans busy with a series of highly collectible Game of Thrones products. Dark Horse's creator-owned series saw a significant number of titles launched, including Matt Kindt's MIND MGMT, Mike Mignola's Hellboy in Hell, and Michael Avon Oeming's The Victories. Perhaps the most celebrated launches came from acclaimed author Brian Wood, who began writing Conan the Barbarian along with his own series, The Massive, and finished the year with the announcement that he would be writing a new Star Wars series. Dark Horse Comics also took home five Eisner Awards in 2012, including Best Anthology for Dark Horse Presents.
黑马公司著名作品
[
]
黑马公司著名人物
[
]
黑马公司漫画改编电影
[
]
参考
[
]